As you inhale, an immediate sense of relaxation replaces the anxiety you were feeling throughout your stressful day. At the same time, it makes you feel both more content and more alert by elevating your heart rate and causing your breathing to become rapid. Within a few hours, you'll be feigning for more of it even though you wish you could stop your craving.
What is the substance that fits this description, you may ask?
Nicotine
– the ingredient in cigarettes that often causes occasional smokers to turn into addicts, and the reason why it's so difficult to quit despite all the negative consequences.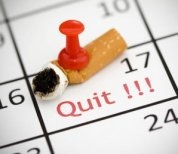 If you live in Hamilton, Ontario and are currently trying to quit smoking, there are several programs and medications that could make the process easier. While quitting smoking cold-turkey is possible, there is a much higher chance of relapse than quitting with the use of additional therapies.
Nicotine Replacement Therapy
(NRT) is, put simply, an alternative way to intake nicotine without the use of tobacco. It increases your chances of successfully quitting smoking by 50-70% and comes in the form of gum, patches, lozenges, or inhalers.
Zyban
is a medication that helps people stop smoking by reducing withdrawal effects and cravings, and the active drug (bupropion) is also used as an antidepressant in other medications. Another common smoking cessation medication,
Champix
, contains the drug varenicline, which minimizes nicotine cravings by preventing it from having a pleasant effect on the brain. In addition to medicinal therapies, smoking cessation programs could help you successfully quit.
The Smoking Cessation Program
located at North Hamilton Community Health Centre (
439 Hughson St. North
) provides individual support and information for people trying to quit smoking. Each one-on-one appointment is booked in advance, and you will be given strategies and options that will help you quit. To book an appointment, you may contact
905-523-6611 ext. 2000
.

The STOP Program
(Smoking Treatment for Ontario Patients) is an initiative in Ontario that provides smoking cessation treatment via medication and/or counselling. You can register for free the "STOP on the Road" smoking cessation workshop that is taking place in Hamilton on November 10th at 10:00am and 1:30pm. This three hour workshop will take place in a group setting where you'll receive a psycho-education presentation and a 5-week supply of NRT that is also free of charge. To register for the workshop, call
905-540-5566 ext. 1
.
Tobacco Hotline
is just one call away and is managed by Hamilton Health Public Services. It provides information about tobacco control legislation such as local smoking by-laws and the Smoke-Free Ontario Act, and smoking cessation. You can reach Tobacco Hotline at
905-540-5566
.
On a positive note, the process of quitting smoking is a strenuous one but it is feasible. As of 2013, majority of Canadians (64%) who have ever been smokers have quit, and the recent development of multiple smoking cessation programs and medications significantly increases your chances of quitting successfully. Making the decision to quit is a vital first step, and reaching out and taking advantage of the resources available to you is just as important.