Causes of snoring.
If you have never been kept awake by the sound of snoring, count yourself lucky! Or, perhaps you are the culprit keeping others awake! There are many possible causes of snoring: the shape of your airway, allergies, sickness, sleep position, or more serious conditions such as sleep apnea. Whatever the cause, snoring can leave you -and others- sleepy and un-refreshed.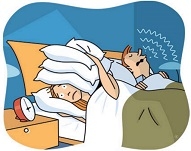 What you can do.
There is a number of home remedies, such as: sleeping on your side, nasal strips (can be bought at a pharmacy), and limiting your use of alcohol and sedatives; you can read about it in our
previous article
. If you have exhausted the self-help list, see a doctor.
Getting help.
To find out why you are snoring, see your Family Physician. You can use
our directory
to find your doctor in Hamilton.
At your appointment your Doctor may request further testing: x-rays, MRI, or refer you to a sleep specialist. Depending on the diagnosis, there are many different treatments that may be recommended to you. Some snorers just need to adjust their
sleeping position
, treat the underlying cause such as allergies, or may find over-the-counter remedies helpful. Others may require surgery, the use of an oral appliance, or a pressurized mask worn during sleep attached to a small pump that forces air into the airway (such as a CPAP machine).
Many appliances are not covered by Ontario Health Insurance (OHIP) and can cost between $100 and $2,000. For a list of what OHIP will fund, click
here
. Residents of Ontario can apply to the
Assisted Devices Program
(ADP) if they go to an ADP sleep clinic (see Registered Vendor List
here
under Respiratory Equipment), and meet medical criteria. Some private health insurance companies (such as provided through your workplace) may refund all or a portion of the cost of treatment.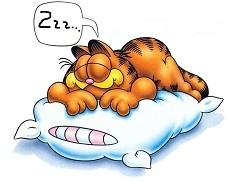 What to ask you doctor.
How effective is the recommended treatment?
How much does treatment cost? Is it covered by OHIP?
How long will I need treatment? Is this a cure, or an ongoing therapy?
Is treatment painful or uncomfortable?
Treatment in Hamilton
St. Joseph's Healthcare has a Sleep Assessment Program, including a Sleep Lab for overnight monitoring. Requires a doctor referral.
Dental clinics in Hamilton offering snoring appliances: Filice Dentistry, Upper Paradise Dental, Rymal Square Family Dentists and Downtown Dental.
Burlington Facial Surgery offers laser treatments. Doctor consultation is covered by OHIP but the cost of the procedure is not.
Spinal Care Clinic offers chiropractic care as an alternative treatment for snoring.