Quick! A close family member - your sister, needs a blood transfusion immediately. She's been stabbed in the arm and has a huge gash that won't stop bleeding. You volunteer to donate your blood since,
'you're of the same blood,'
but then you're told you can't.
'Why,'
you ask.
'You have different blood types,'
they say.
Luckily they are able to find a match and your sister is alright in the end, however, that leaves you wondering how your blood type could be so different yet have the same parents. With some more inquiring, you find out that your 'mother' has blood type A, and your 'father' has blood type B, so therefore you and your sister should both be AB right? Not exactly
We often hear that there are
four blood types
: A, B, AB, and O, but this information alone is incomplete and can't tell you much. Things came into perspective when I understood a bit more about the blood types.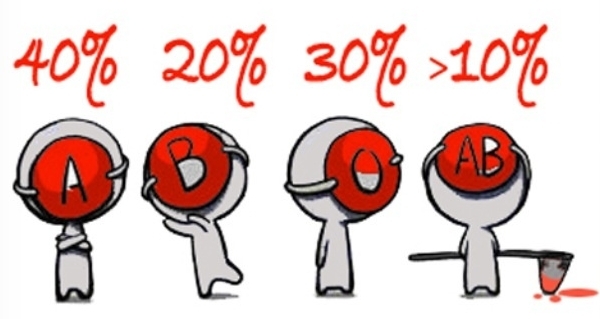 Going back to the scenario it's correct to think about getting your genes from both parents, but even your parents have two sets from theirs. Your 'mother' here has blood type A, so that means she could have inherited an A from both of her parents, or A from one and an O from the other. Since A is a dominant trait, it's louder than O, it has the say as to the blood type. Let's say she has A+O, while 'father' has B+O. That means they can have kids with type A+B (AB), A+O (A), B+O (B) and without either type A or B (O), now how's that for a diversified family. It makes sense why you and your sister can have different blood types.
The
diversified blood
grouping A, AB, B, O doesn't end there. Yes, we have more proteins that coat our red blood cells (RBC) that further makes us different. Some people either have RH factor (+) or don't (-), along with their blood groups. For instance, if you have the blood type AB, you can be either AB+, or AB-.
It's important to know what blood type you are for when you are giving and receiving blood. Our body's immune system recognized the protein on the RBC. If you get the wrong type of blood, that sets off your immune system and causes blood to clot: This could cause symptoms like shock, fever pain, and depending on the severity, it can ultimately lead to death. Yikes. This was the reason why blood transfusions were viewed as a risky treatment, back before blood groups were understood: Some blood transfusion patients died. No wonder they refused your blood.
Even with this understanding of blood groups, there may be still resistance of a person's body to the
transfused blood
. This is why it is important to get blood that is closely related to the patient. As the sibling, you probably would have been a good match had it not been for the difference in your blood groups.