Whether you're in need of some you-time after a long work week, or recovering from an injury, massage therapy can be a great way to calm an aching body.
Massage therapy
is the manual stimulation and manipulation of the body's soft tissues, like muscle and tendons, to improve a person's well-being and health. There are two main types of massage therapy: relaxation and rehabilitation. While relaxation massage is the typical kind you see in spas and resorts, rehabilitative massage is geared toward recovery from injury or illness, and is performed in hospitals and other clinical settings
[1]
.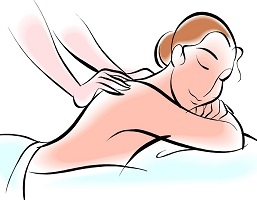 There are many physiological and emotional benefits to massage therapy. If you have the time and money, it can be a good addition to your overall health maintenance. Massage therapy helps to decrease joint pain, improve
blood circulation
and reduce tension and pressure in the muscles. In addition, massage therapy has been proven, via a number of studies, to aid in the treatment of headaches, Parkinson's disease, sprains, scoliosis and depression, among others. However, you don't need to already have suffered from an injury to receive massage therapy - if you're active in sports, it should be part of your preventative care routine, and a professional can help with that
[2]
.
Etobicoke
is filled with a variety of massage clinics and wellness centers so you can get the therapy you need. Here are a few:
: Voted top massage therapy provider in Toronto for 2013 and 2014, this clinic offers extensive services designed to help you relax and heal, whether you want to be pampered with their hot stone massages or recover with a deep tissue massage and acupuncture. They even offer microdermabrasion, cranial sacral and pregnancy massages. You can visit one of their two locations: one is in Etobicoke, and another is in Toronto.
: Founded by Sue Sheedy, who is an RMT as well as a specialist in shiatsu and reflexology, this dual-location clinic boasts a large, quiet space to promote relaxation and healing, as well as a team of skilled professionals. Services include, but are not limited to: Thai massages, cosmetic acupuncture, reflexology—even yoga classes!
: Run by licensed massage therapist Candida Neri, who specializes in sports massage, pregnancy massage, rehabilitation therapy, chronic pain management, among others.
There are many
other options
available in Etobicoke for those seeking massage therapy, no matter the sprain, strain or stress you suffer from. Make sure you do your homework before putting your health in someone else's hands.
Speaking of professionals, not everyone who's good with their hands is fit to massage - Ontario has a Registered Massage Therapist (RMT) Association
[3]
, where
licensed professionals
are available to help alleviate your stress and discomfort. RMTs can work with people who may have had injuries, disabilities or other serious illnesses. They use modern biological and physiological knowledge combined with Swedish massage techniques to assist their patients.